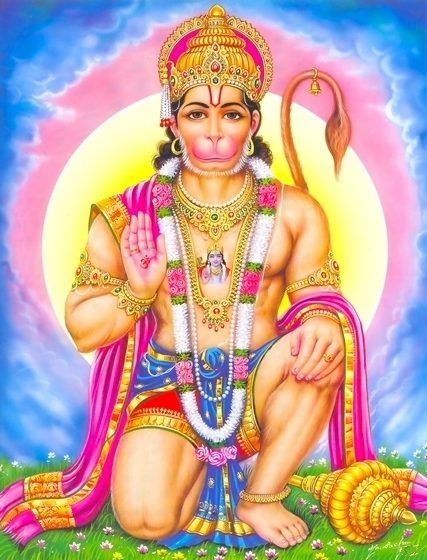 Shree Hanuman Jayanti
Hanuman Jayanti was celebrated yesterday with devotion and religious fervor. Hanuman temples were decorated with flowers and colorful lights all over the country. Bhajans and Kirtans to celebrate Shree Hanumanji's birthday were also organised in many places.
What is the importance of Shree Hanuman in the Hindu Religion? Why do  so many people worship Shree Hanuman so ardently? They even observe a fast and eat only once in the evening and that too only sweet food, no salt.
Shree Hanuman is known for his devotion towards Lord Ram. His selfless love and comitment to serve Lord Ram empowers him to achieve anything that may be required to serve his Lord. It is this unique power that enables him to fly to the far off mountains to bring the rare herb that is needed to revive Lakshman.
Laye Sanjivan Lakhan Jiyaye
Shree Raghuvir harashi ur laye                              
It  is the same power that enables him to burn half of the Lankan Kingdom, in order to teach Ravan a lesson. His dedication and desire to serve his master Lord Ram is so intense that the only path which is seen by his eyes is the road to success to achieve the desired goal.
Durgam Kaj Jagat Ke Jete
Sugam Anugrah Tumre Tete
 Meaning the burden of all difficult tasks of the world becomes light with you kind grace. (These choupais are taken from Hanuman Chalisa
Many thinkers and life coaches of the Western world have emphasised the power of visualisation. Shree Hanuman is an embodient of that very visualisation. In this state, the person only sees success till he/she achieves it. And when one is totally devoted to a particular cause which is the goal there is no distraction whatsoever. So the total focus and dedication to the work accelerates the process of success.
That is why people read the Hanuman Chalisa with devotion and the following choupais motivate and reassure that whatever is desired will be achieved.
Sab kuch lahi tumhari sarna
Tum rakshak kahu ko darna……
All comforts of the world lie at your feet. The devotees enjoy all divine pleasures and feel fearlesss.
Bhoot pishach nikat nahi aave,
Mahavir jab nam sunave
All the ghosts, demons, and evil forces run away when one recites your name.
Sankat se Hanuman Chudave,
Man kram vachn dhyan jo lave
Those who remember Shree Hanuman, think about him, his words and deeds with sincerity and faith are rescued from any crisis of life.
Ashta siddhi nav nidhi ke daata,
Us var deen Janaki Mata
Shree Hanuman can grant all 'siddhis' – power to become light and heavy at will and also yogic powers to attain riches, comfort, power, prestige, and good relationship.
The daily recital of the Hanuman Chalisa with your goal in mind empowers you to take such actions which will enable you to achieve your goals easily.
Jai Shree Hanuman!
Please follow and like us: