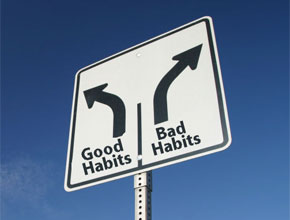 Everyone wants to gain financial freedom- free from worry of providing finance resource when you stop earning. This is particularly so if you are a working professional. Today, we have examples of financial wizards who have grown to riches starting at the bottom of the ladder. But here we talk about much lesser achievement- just to gain financial freedom. So what is holding you back? There are five major reasons. These are:
Fear
Cynicism
Laziness
Poor habits
Arrogance
1. Fear: What is fear? Why does it come? What are the problems that it may create? These are a few of many questions one may ask to understand the affliction and its implications. These may differ from person to person. But the ultimate problem the fear causes is the same. Fear doesn't allow you to grow. In fact, it makes your life miserable.
2. The second in my list is Cynicism. A cynic is always skeptical of things other than mathematics. The doubtful nature of the cynic doesn't allow to trust anyone. What if is the perennial problem the cynic faces? With negative, jaundiced view, a cynic becomes a pessimist. She/he is unable to see the brighter side of things. They become color blind and cannot differentiate the various colors of human life. They say that there is light at the end of the tunnel. But for the cynic the tunnel becomes endless. In these circumstances who can progress in any field. They hold back and blame everyone around for this failure.
3. The third the list is When you don't feel like working, when your indolence doesn't allow you to get out of the bed, you are too lazy to think solution of even a minor problem. You know what is to be done. You know how it is to be done. But your sluggishness holds you back. You tend to procrastinate. It is often observed that if you delay action, the significance of the action is lost. Who lose out? You. And why? Only because of laziness. The remedy is discipline. Discipline beats laziness. Simple definition of discipline is doing something which needs to be done even when you don't like.
4. Next point on my list of reasons of failure is "Poor habits". Good habits are hard to cultivate, but poor habits come uninvited. And then, like the undesirable guests, they occupy the most of your mind. What are these poor habits? You don't live up to the need of the situation; when you remain deficient in any action that you take. You do nothing about your inadequacies. You get to know that your performance is below average, yet you do nothing about it. You accept below par action as enough. These don't provoke you to do any better in spite of the rebuff of your superiors; lack of respect of your time and that of others is another unpardonable habit.
5. And finally, it is Arrogance. Arrogance is equal to Ego plus Ignorance. When you think you know all, you feel, that to know what you don't know is not important, therefore, can be ignored. Arrogance doesn't allow you to listen. God has endowed every human with two ears, but only one mouth. I would say that we should listen twice as much as we speak. But arrogance will not allow you to listen and understand others. Therefore, you don't allow others to speak. Your high headedness breeds more enemies than friends. And you stand to lose everywhere. The aforesaid five problems need to be addressed by everyone who wants to progress.
Your success depends on the following three activities:
Your eye on cash flow
How you manage people
And, how you manage your time
But the above 5 snares will not allow you to perform anyone of above three activities even satisfactorily, much less effectively.
Thanks for reading.