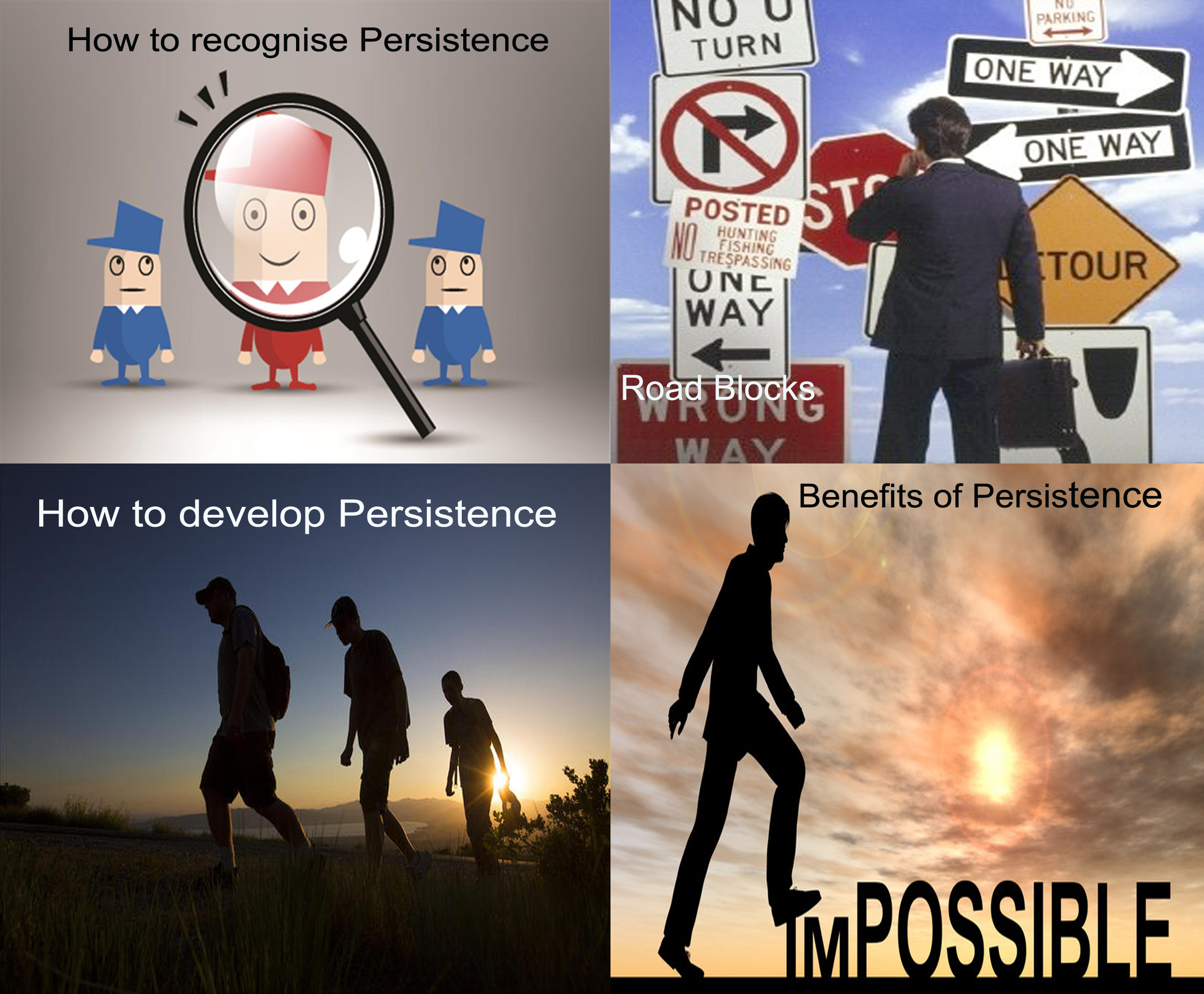 Persistence is perhaps the most important reason of anyone's success in life. The 4 faces of persistence that I have chosen to discuss are:
What is persistence? Its definition.
The road blocks or the difficulties faced for persistence.
How to develop persistence if it is not the part of your personality?
Last but not the least, how does persistence help you to achieve your goals? This discussion will contain examples of the leaders who are the shining stars in this respect. Let us deal with each of this 4 faces in detail.
Face 1: How do we recognize the ability to persevere in anyone's personality? What have the leaders and thinkers in the past stated about persistence? The review will enable us not only to understand but also to assimilate the virtues of persistence. Following are the famous quotes of great leaders and thinkers from different fields
Winston Churchill: "Never, never, never, never give up!"
Buddha: "A jug fills drop by drop"
Samuel Johnson: "Great works are performed not by strength but by perseverance"
Napoleon Hill: "Victory is always possible for the person who refuses to stop"
Albert Einstein: "It is not that I'm so smart, it is just that I stay with problems longer"
Ralph Waldo Emerson: "By persisting in your path, though you forfeit the little, you gain the great.
Unknown: "It is when things get tough and you don't quit that success comes"
Unknown: "The darkest hour is just before the dawn"
In fact your persistence in following your project measures your faith in yourself.
Face 2: The moot question is persistence if understood to be so important for progress; then why it is missing in almost 90% of the educated working class. It is difficult to find one common answer for all those who lack perseverance. A study of the human behavior assigns the following reasons why perseverance is missing in most of the people.
i) Accepting life as it comes. The habit of living life in a certain way which does not require to stretch out of your comfort zone does not allow one to think beyond.
ii) Sometimes, the problem starts during our formal education. The education system does not emphasize the important of simplicity in dissemination of the knowledge. Complex instruction affects the student's ability to understand and assimilate. As a result there is a tendency of the mind to go somewhere else. Important of persistence does not come in to the picture.
iii) Lack of patience, inability to take risk and inadequate courage also act as deterrents.
iv) Goals of life should be specified and written down by each individual. Our goals inspire us to persevere in order to achieve them. When there are no goals there is no inspiration.
Face 3: How to develop persistence
i We must specify our goals and they should be written down. The goals can be according to your priorities. The subject of our goals can be: health goals, career and financial goals, and family goals etc. You may add any other goal as per your liking. But, these should be time bound. These will inspire you to persist in your efforts for achieving these.
ii) Meditation is very useful. It enables you to review that you are moving forward in the right direction. When you meditate on any subject, the mind will keep on wandering and providing inputs on the subjects. This means that in the back of your mind you will keep on thinking about your goals. Meditation is not related to any particular faith. You may sit down and meditate on your breath or any other object. But make background thoughts hover around your goals.
iii) A detailed plan of action in pursuance of your daily tasks as well as weekly will be very helpful.
iv) And, above all the most important action that you can take, to bring persistence in your personality is to love your job. When you enjoy your work you are encouraged to continue doing what needs to be done.
Face 4: The benefits of persistence. These are immense. Progress in any project that you may undertake will become easier than you may imagine. Big difficult projects will not frighten you. You will gladly undertake these knowing fully well that these will require your consistent hard work. Your commitment to your mission becomes impeccable. The lives of great leaders of the world tell us innumerable success stories of those who failed many times before achieving success. Some of the well known examples are: Abraham Lincoln who failed repeatedly before becoming successful, Dr. Martin Luther King, Nelson Mandela and our own Mahatma Gandhi. You may find any number of examples that you may like when you go through the pages of world history.
Thanks for reading.