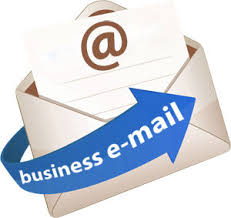 Email happens to be the most used (at times abused) form of business communication. The importance of email, thus, should not be undermined. However, it is necessary to observe business email etiquette. Following 7 rules need to be taken care of:
Rule No. 1:
Think of all the options before deciding to send an email. Today, we have many other options like text messaging, WhatsApp, Instagram, chatroom etc. Choose the one which is most appropriate for the subject and for the receiver whom you want to contact. Remember email is a commitment.
Rule No. 2:
At times, you may be sending a venerable message. Whenever some kind of conflicting statements are made, it is necessary to be careful, very careful. In such instances, you may find it useful to print the message before sending. A hard copy can be easily examined for correctness of language syntax etc. But when you read on a computer, you may not be all that meticulous. Besides, you will have a permanent record. Who knows, you may need the record in the event the conflict escalates.
Rule No. 3:
Whenever you send an important email, it's necessary to read it more than once. You may improve the language. You may like to modify the thought to make it more intelligible, logical & convincing. It may require extra effort. But when the message you are sending is of critical importance, extra effort is justified. After all, such critical communications are not handled on daily basis.
Rule No. 4:
Always maintain an address book. Never delete names. You never know when you need the same. But maintain the address book most efficiently. For personally known contacts, always start the name using surname first. For others business contacts you may like to form some groups. Vendors could be in one group. Clients could be in another. Further, these can be assigned subgroup names. It could be industry wise or importance wise. As per the needs of your particular organization and your role, planning needs to be done.
Rule No. 5:
In business, in spite of best efforts it's difficult to maintain equanimity. But never send an email when you are not a good mood. Something may have happened and you may be upset. This is certainly not the right time to send an email. Further, even when you are exhausted, don't send an email. An email is a spontaneous expression of your thought and mind. Your exhaustion could peep through the mail when the receiver reads it.
Rule No. 6:
Don't ever cut short the business process to make it simple. When the occasion demands that you must have a face to face meeting: go for that. An effort to make it more convenient may obliterate and negate the very cause of the meeting. An email is never a replacement of a personal contact.
Rule No. 7:
Last but not the least, always keep in mind and reflect on the hierarchy of business contacts. Meeting comes first. So, when you need to convince and influence someone, you may require meeting. Yet, you cannot always meet even though it may be important business. Then, use the telephone. Have a smile on the face. Go through the contents of your call based on your objectives, and call. Don't hurry to pick up the phone. Third in line is voice mail. Though it is not interactive, yet it has some degree of personal touch. When all the aforesaid three are not possible or not required, use email and sure remember to follow the first 6 rules.
Thanks for reading.