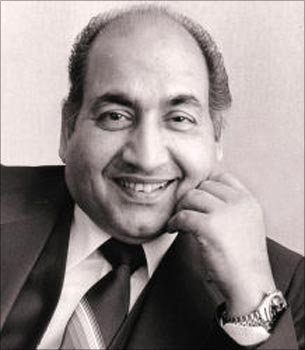 Yesterday, Mohammad Rafi was remembered by the entire music industry on his 26th death anniversary. It was on 31st July 1980 that he died. The day saw an unusually intense rain.  It appeared that the the Sky in India was weeping to mourn the great loss to the music treasure of our country. In spite of very heavy rains,  a mammoth  crowd followed the funeral procession. That was the story of a very simple man, a family man but a very profound singer in the film industry of our country.
There are lots of anecdotes regarding his compassion, simplicity and devotion to his work.
Once he was traveling in his car to a recording studio. It was extremely hot. He saw that a beggar at the crossing was standing on one leg and then changing the foot because the road was extremely hot. Rafi asked his driver to stop the car, took out his own shoes and told the driver to give the shoes to the beggar. He said that beggar's need was greater than his own.
It is said that whenever he would go for recording, he would take tea from home in a thermos flask. His wife would make a special tea for him. She put various dry fruits like cashew walnuts, almonds etc. He would never share his tea with anyone. He was thoroughly a family man devoted to his wife and family. The couple was fond of each other so much that after completion of the work Mohammad Rafi wood straight come home. He would hardly ever attend get together and parties of the film industry.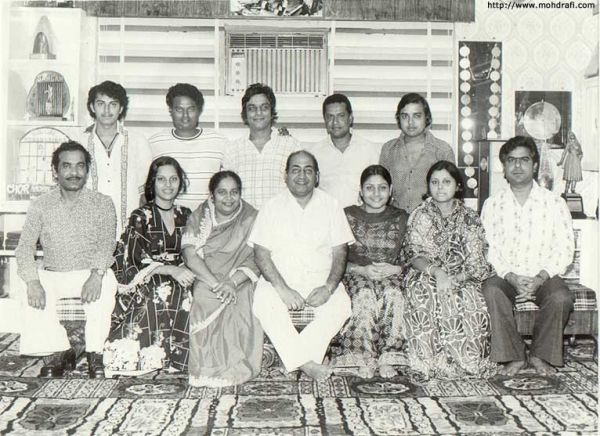 Rafi sang many songs for the famous music director OP Nayyar. Once, Nayyar asked him, "you have worked with so many music directors; who is your most favorite music director?" Simple but quick witted Rafi said, "yoon to Humne lakh music directors dekhe hain,tumsa nahi dekha" meaning that I have seen lots of music directors but you are unique. OP Nayyar was equally fond of him and would always engage him unless the actor or the situation demanded some other voice
Another very interesting anecdote of his depicts his uncanny simplicity. Once, he had to record a song At All India Radio, Mumbai. Singer Mohinder Kapoor was his fan as well as his friend. Rafi asked Mohinder Kapoor what was he doing? Come with me, "I have to go to recording in All India Radio. Both went to the All India Radio studio and recorded the song. When they were going back they found lots of boys and girls asking Mohammad Rafi to give autograph rafi who did not understand English and did not understand what it would mean to give autograph. Rafi asked Mohinder in Punjabi what they were saying. Mahendra Kapoor said that they were asking his autographs. Simple Rafi said, "tun yo kar de yaar." (you only do it for me) That was his simplicity.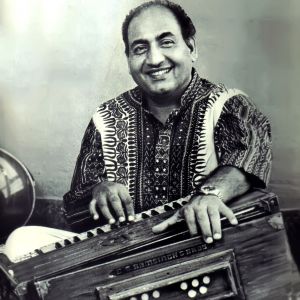 Laxmikant Pyarelal who became famous music directors were the children of a trumpet player. He was always short of money. He would often go to Rafi for help. Once Mohammed Rafi gave him 500 rupees which was a lot of money in those days. But that the magnanimity of Mohammad Rafi. When Laxmikant Pyarelal got their first film for music direction, the producer put a condition that they must bring Mohammed Rafi to sing all the male songs. Further that only Rs2000/= fee would be paid for each song. At that time the fee for Rafi Rs.10000/=. After the recording was over the producer did not have courage to give an envelop containing the paltry fee. He asked Pyarelal  to do it. Mohammad Rafi noticed and he said to Pyarelal to distribute the money between two of them. "I will be very happy", he said. These are some of the interesting anecdotes from the life of the great singer Mohammad Rafi, who has been one of the greatest singers of his time, possibly for all times to come.
Thanks for reading.