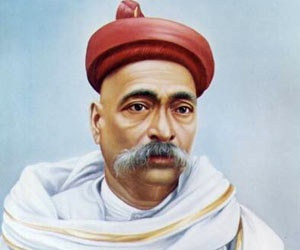 Yesterday, the 23rd of July was the birthday of Lokmanya Tilak. Born in 1856, he was a truly great leader of our freedom movement, who was conferred the title of 'Lokmanya '- one who has been recognized as the People's leader. He was the one who heralded the concept of Sampoorna Swaraj.
It is sad to note that our media, including the electronic media, which has all the time and words to sensationalize the most commonplace happenings did not lend any coverage to this great soul of our country.
I append below excerpts from his life,so gracefully published in Wikipedia for our countrymen, who like to remember this great Lokmanya leader.
In 1894 , Bal Gangadhar Tilak transformed the household worshipping of Lord Ganesha into a public event. The  large community celebration .
He was an educationist. The Deccan Education Society that Tilak founded with others in the 1880s till today, runs much respected Institutions in Pune like the Fergusson College.
It was he who started ,The Swadeshi movement. This being a part of the Indian independence movement and the developing Indian nationalism, which was an economic strategy aimed at removing the British Empire from power and improving economic conditions in India by following the principles of swadeshi (self-sufficiency; Hindi: स्वदेशी svadēśī), which had some success. Strategies of the Swadeshi movement involved boycotting British products and the revival of domestic products and production processes.
He, along with other leaders, coined the concept of Sampoorna Swaraj.
He was indeed a great leader.
Please follow and like us: