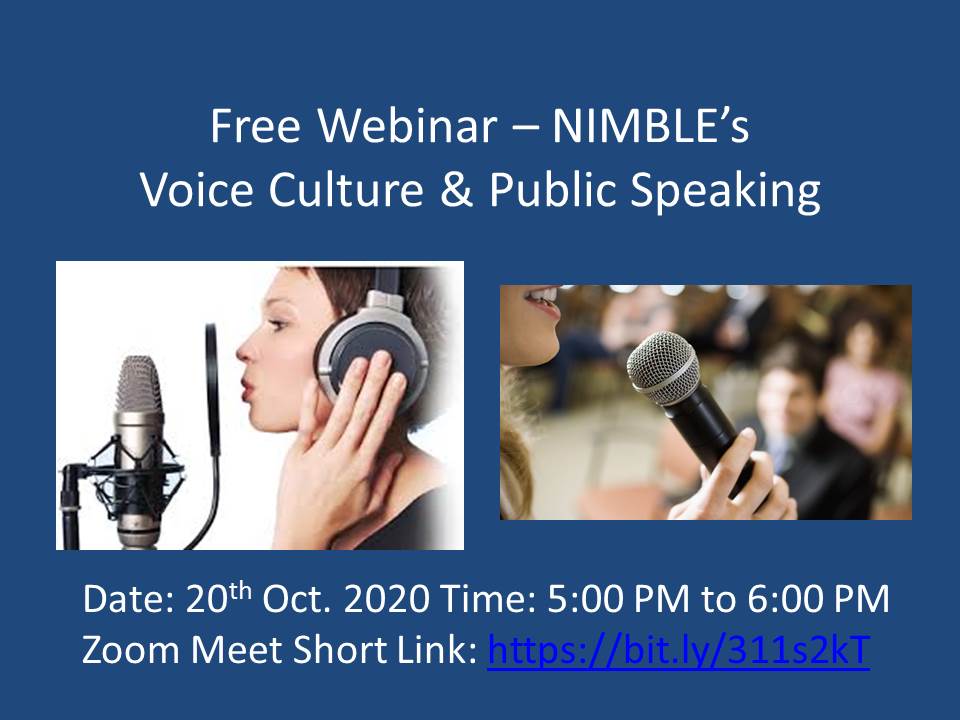 Do you have problem in Speech?
Do you wish to become a Powerful Public Speaker?
Nimble Foundation is a pioneer of Voice Culture & Public Speaking Programs in India. In view of the pandemic situation, our training is now online catering to a world-wide audience.
Nimble is organizing a free Webinar on 20.10.2020 between 5:00 to 6:00 PM.
Attend the Webinar to learn how this training will radically transform your voice and dramatically enhance your speech!
REGISTER NOW! https://forms.gle/vkAasA7hoyz7w3bo8
ITS FREE!
Webinar Short Link: https://bit.ly/311s2kT
For more information about NIMBLE: Visit: https://nimblefoundation.org
Our life-changing Blog Site: https://blog.nimblefoundation.org
Email us: info@nimblefoundation.org
#Webinar #PublicSpeaking #LeadershipSkills #VoiceCulture #LifeSkills #Motivation #SuccessfulFuture
Please follow and like us: