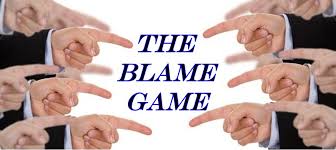 Scenario 1:
1) An employee couldn't submit the annual report on time. On enquiring he blamed the delay in work to the team's noncooperation.
Many other commonplace scenarios occur in everyone's life. And these are what we call as blame game.
So what exactly it means? Well, blaming others' or situations for one's own failures.  This generally happens when one is not ready to take up responsibility of one's failure because of ego or fear of criticism. Blame game means the activity by which one tries to identify the person or situation that can be made a scapegoat. In the above mentioned example the employee comfortably blamed the teammates for not co-operating with him. Sometimes the reasons are true but in most cases these are mere excuses one produces for hiding what one is incapable of doing. This makes them unsuccessful and then it becomes a habit.
Yes! Blame Game can become a habit if not consciously uprooted from one's life!
And what does blame game indicate? The blame game is the game of timid. It comes easily to those who do not have courage to face life. Life poses several questions at various times. The people who are afraid of failures are the people who try to escape by blaming others. Life is two sided coin. It comes with the successful moments as well as failures. World hasn't witnessed a person who hasn't seen and experienced both. Then why to fear failure?
Winston Churchill once said," Success is the ability to go from one failure to another with no loss of enthusiasm"!
Blame game is the worst played game which comes due to the following reasons:
1) Lack of courage: People who lack courage fear to face failures. They don't want to take charge of something that they failed in. They want to shrug off the responsibility of failure and thus, they find an excuse for the failure. They blame the circumstances, the situations and many times other people who are involved in the project with them.
As the saying goes, "An inefficient workman always blames his tools"!
These gamers find excuses which would make them less responsible of the failure.
Certainly, the example quoted above is that of a blame game instead of an excuse. If people were not co-operating the employee could have arranged for a meet to discuss the issues!
People with courage often stand up for their failures. They analyze what went wrong in their efforts and if at all it is their mistake they accept it wholeheartedly. They are bold enough to accept their mistakes and learn from those for future projects. They firmly believe in the philosophy that " In order to succeed in life you must first be willing to experience failure"!
2) Lack of Discipline: "The more disciplined you become, the easier life gets"!
Discipline is a must to succeed in life. If one doesn't possess this virtue, he tends to play blame game when he fails. When one starts a project or a task one should be good at estimating the time it will take to complete the project. One needs lot of persistent efforts to finish the work in particular time.
Indiscipline interferes with the persistency of efforts and causes missing links which may not be connected again or may take longer to connect. This leads to loose ends and yes failure! One has to inculcate the habit of discipline in order to stop the worst game of blame game.
Discipline after all is knowing what needs to be done and doing the same when you actually don't want to do it!
3) Procrastination: "Procrastination is like a credit card- It is fun until you get the bill"
And the price of procrastination is quite huge. Don't put it off to tomorrow what you can do it today. People who like to blame others and situations for their failure are the ones who procrastinate the most. The tendency to avoid difficult work is the one which leads to procrastination of work. One needs to apply mind to difficult tasks at hand. One needs to manage time well, by prioritizing the activities one has. "Project prioritization matrix- Eisenhower matrix " is a tool which can help anyone keep the track of importance of any activity based on its urgency. Once an activity gets delayed one may get entangled with other routine activity or countering an urgent task.
These are some of the reasons why one takes the rescue of blame game. One needs to change oneself and inculcate power of good habits. Habits change when one continuously works on them. It takes time but the self esteem it builds is totally worth it.
Thanks for reading.
Please follow and like us: