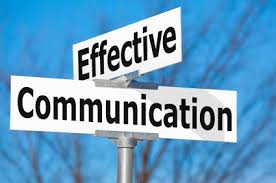 Let's examine four possible combinations of speaking & listening. This will enable us to understand what communication can do to our lives and to our organizations.
Possibility 1. Effective speaking but poor listening. If this is the leader's characteristics the results could be as under:
It will increase your focus. You may have generated good followers & good soldiers. But the potential leaders will leave. There will be practically no innovation. Stress level will increase.
Possibility 2. Effective speaking and active listening. That is the perfect combination for the leader. The focus of the leader and of the organization will remain in the forefront. Things will happen fast. Loyalty of employees will increase. Appreciation of mind and ability to enjoy the work will bring in more breakthroughs, more innovations. People will collaborate with each other and also compete with each other. The best will blossom with the leader's effective speech and active listening. An atmosphere of sustainable leadership will prevail.
Possibility 3: Poor speaking but active listening. It will amount to lack of focus. Also, waste of time & money. There will be thrust on management by committees. People might get an impression that anything goes.
Meanwhile active listening will also result in the positives. The employees will become more self-expressed. Application of mind by them will increase. There would be greater innovation.
Possibility 4: Poor speaking and poor listening. It will be nothing but a slow death of the enterprise. The death of textile mills in Mumbai & Ahmadabad can be attributed to this syndrome. Misunderstanding and conflicts will rule. Opportunities will be missed. There would be high rate of attrition. Isolation will result in fragmentation, and finally extinction.
Just perusing the above possibilities would shake our slumber. Importance of communication will then be fully realized. So, I will deal with both aspect of communication- good speaking and good listening.
Effective Speaking:
First of all it is necessary to have strong content. Content is the king. Effective communications take this into account more than any other aspect of management or even life. Content means domain knowledge. You can't fool people with shallow thoughts. Much less you can impress them. Lot of hard work goes into acquiring knowledge. The biggest problem is seen when you have worthwhile knowledge but you can't use into your advantage due to lack of effective speech. Your expression remains impaired. People would barely know that you are a storehouse of useful information.
Then what should you do? Become a good speaker. Practice the art and science of speaking clearly, confidently and convincingly.
How do you speak clearly? You must understand that speech in the result of decision to communicate. First thinking clarifies the idea you want to project to the listener or a group of listeners. Then brain sends a signal to the lungs and some breath is released. Breath strikes the vocal cord to produce sound. But the words are created by the speech organs. So in order to speak clearly, think clearly. Cultivate habit of deep breathing. It enables to have sufficient breath to support strength of your voice. This will also enable you to speak longer sentence without breathing in between. The flow of speech will enable ideas to flow smoothly.
Active listening:
Communication does not mean only effective speaking. In fact, it is the beginning point. But even more important is active listening. Active listening will bring about the results that you are looking for. You communicate with someone or a group of listeners with an objective. How can you influence others? By listening to them actively or with your speech. How do you find whether you are a good listener or not? I give below a checklist which is self- expletory.
Checklist:
Don't think of what you are going to say next when another person is speaking. Just focus on understanding and assimilating what he/she has to say.
You must listen with an open mind. Don't try to relate with your own experience, similar experience. When someone is relating a story in support of his argument, your tendency to evaluate should be given a pause. Never be judgmental, as they say.
When you are listening, try to recreate mentally what the other person is saying objectively.
Try to see things from the speaker's point of view. Empathize and be compassionate while listening.
Try to uncover the intent of the speaker. All speakers may not be terse. Their verbosity may require a little extra effort on your part to understand the intent. Make this extra effort.
Think what results you can produce through listening rather than speaking. If you want to influence people, you will be amazed to observe how listening comes in handy and helpful.
Listen a minute longer than it is comfortable. That extra minute will give you extra input. In any case, you are having a dialogue for understanding the other's point of view.
Last but not the least; you must remember that your words of advice will be seen as unwanted noise. Never give an advice unless asked for. If you are not convinced and the solution demands that you must express your views, do that and say we agree to disagree!
Please follow and like us: