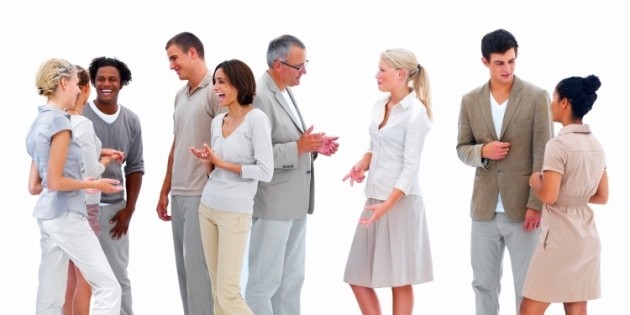 An interesting conversation is very important business etiquette. It's also critical for relations building.  We converse day in and day out. So we must try to think back how often we are very interesting and how often we are not. There are certain rules which we need to keep in mind to develop our good business conversation habits. These are as follows:
Be present: When you are conversing with someone for fun or for business negotiation, you should be totally with him or her. You should not think about anything else; not about any past events nor any similar situations. You should only be listening to the person you are speaking to. While listening, you should be assimilating the information not to reply but to understand. In simple words first understand then only try to be understood.
No opinions unless you are asked, please: Your conversation should not be just to vent out your opinions or to display that you know everything about the things that you are discussing.
It also does not mean that you should not participate in the conversation. You a have the right to differ, but, you should be doing that with elegance, grace and poise. That can happen only if you listen and understand the other person properly.
Make others talk: Ask open ended questions using what, how, where, when etc. When they answer these questions, they will be able to speak out in detail what they have in mind. They will be able to throw more light on the subject of conversation which will add to your knowledge and pat their ego. Don't just ask questions for which the answer is 'yes' or 'no'.
Go with the flow: You must first listen to the person talking and if at all you have to say something different from the current topic wait until the subject changes.
Besides, you need never be waiting for speaking out as soon as the speaker completes the sentence. In such an instance your mind will be only concerned with what you are going to speak. In the process you will not listen and you will not understand what the person just spoke.
If you don't know, say it: You should never behave like "I know everything" even when you know much. One never knows all. Thus, if you are asked something and you don't know simply say "I am sorry, I don't know!" There is nothing wrong in that.
Don't equate your experience with theirs: Now, if someone is sharing with you an experience and you also had a similar experience earlier, hold that back. Let the speaker enjoy telling/sharing his/her experience and then briefly only if necessary just in agreement you can say that yes this is true because you also experienced the same.
You should never stop or rob him/her from sharing that interesting experience with you.
Don't repeat yourself: Repetition in a conversation is extremely unwelcome. People will get bored and they will definitely think that it is not worth talking to you because you keep on repeating yourself. And many people do the same. Therefore try to think, observe and ensure that you never repeat the same thing over and over again.
Thus, one must listen, be more open and while speaking, should be brief. Verbosity kills the efficacy of the idea. Always use simple language and short sentences. Short sentences means one can vary the sentences between four words to twenty words. If you are using a sentence containing 20 words, you must pause in the middle just like you give commas in a written speech and not speak in one go. Develop a sense of humour to keep the conversation light.
Thanks for reading.
Please follow and like us: