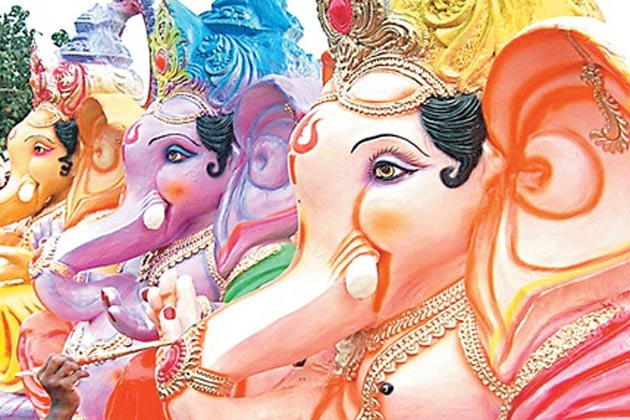 Ganesh Chaturthi is celebrated with festivities lasting ten to twelve days every year. The occasion for the celebration of the birth of Lord Ganesh, son of Lord Shiva and Parvati.
Ganesh symbolizes intelligence and application of mind. There are many incidents in Lord Ganesha's life which symbolize his sharp wit and presence of mind. Among them the most famous of them is his competition with his elder brother Karthikeya.
As the story goes Lord Shiva called both his sons and told them that whomsoever circles the world three times will be given the prize of a magical Mango which was presented to him by Sage Narad. Ganesha realized that his vehicle the mouse, would be of no match against the swift flying peacock of his elder brother. He thought for a moment, smiled and took three circles of his parents. When they asked him why they were circling him, he replied that they were his world, and taking three circles of them was equivalent to circling the world three times. Lord Shiva, Goddess Parvati were very pleased and they gave the fruit to Ganesha.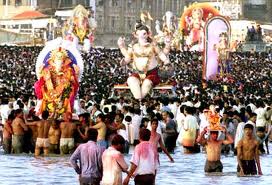 The festival falls in the fourth day of the waxing moon in the Hindu lunar calendar month of Bhadrapad which mostly falls in September according to the English Calendar. While the festival is celebrated all over the country, it is in the Indian State of Maharashtra that the celebrations are specially famous.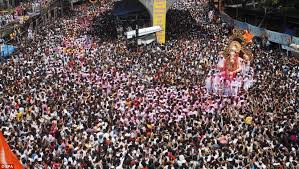 In medieval history, the celebration of Ganesh Chaturthi can be traced back to the times of the great Maratha King Chatrapati Shivaji Maharaj. However following the decline of the Maratha empire, the festival lost its state patronage. It was the famous freedom fighter Lokmanya Tilak who revived this festival as a community celebration and to gather people in his fight against British Rule.
Indeed he has left behind a lasting legacy. Every year the festival gets bigger and more and more people revel in the worship of the Lord and seek his blessings.