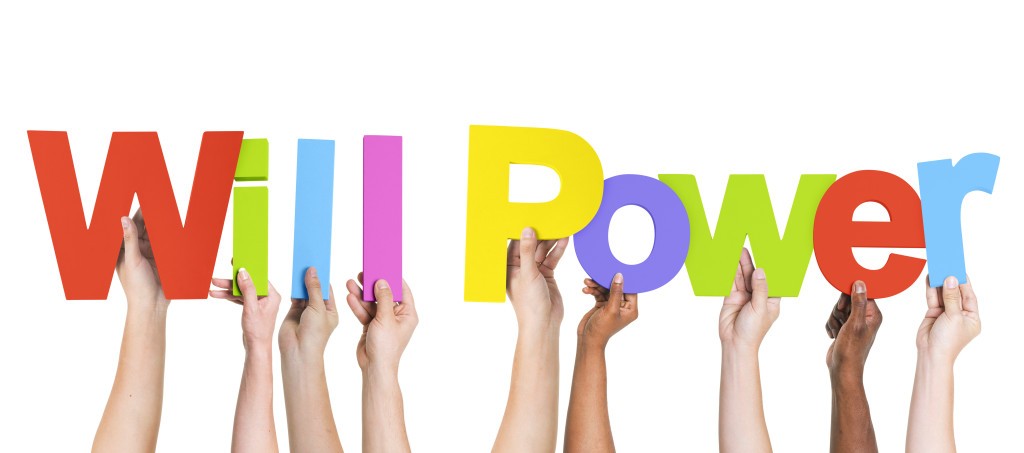 A Chinese Proverb says "Great Souls have wills ; feeble ones have only wishes ."
What exactly is meant by the word willpower or 'will'?
Willpower is the ability of a person to decide and execute the course of action in detail to fulfill one's wishes. It is the strong determination by which a person continuously strives to achieve one's goals with dedication, especially, when caught in difficult times.
Psychologists have also termed this mysterious phenomenon called willpower as self control exerted to shrug off the inner resistance in the form of discomfort or laziness in order to hit the long term targets. Lack of strong willpower is one of the reasons for failure. Whether it is the goal to reduce weight , to quit smoking or to complete  an arduous project,  stupendous willpower is the key secret to achieve it!
The beauty of willpower is that one can work over it and increase it with a resolve. Let us see the essentials required behind cultivating and developing a strong willpower.
Clarity of Thought : Clear thinking is vital for setting specific goals in life. When we know our particular destination and our purpose to reach there is well defined, we chalk out a  plan accordingly. Without clarity of thoughts, we tend to get diverted as we have no focus and are devoid of specific goal.
Napoleon Hill – There is one quality that one must possess to win, and that is definiteness of purpose, the knowledge of what one wants ,a nd a burning desire to possess it.
Discipline : " It is fatal to enter any war without the 'will' to win it" -Douglas Macarthur
In order to cultivate a seed of willpower and to develop it further, it  needs to be supplemented with the essential power of self discipline. Self Discipline is the strength to work towards one's goals with perseverance and tolerance in order to accomplish those. Without self discipline one tends to give up to the temptations, inconvenience, hardships or obstacles which may come in the way to achieve your goals.
Strong desire : "Strong desire is the starting point of any achievement."
Any successful accomplishment stems from the strong desire . Strong desire to fulfill one's mission manifests itself into a  disciplined plan  and approach to achieve it. It increases one's willpower to achieve one's dream and fulfill wishes. The wishes remain wishes if not backed up with the fire of strong desire.
Great Emotional Intelligence : Emotionally intelligent people don't lose course of action even in phase of extremely challenging circumstances. They are focused and thus, the willpower to achieve goals increases. They respond to the hurdles, obstacles and the difficult times in the same way as if there aren't any. Emotional intelligence enables one to think logically when one encounters  a pressure cooker type situation.It  doesn't let the odds interfere in your way towards success. Thus, with a great emotional intelligence one is always power packed with strong willpower . Success, then, is certainty.
James Gordon has quoted " Its not that some people have willpower and some don't . It is that some people are ready to change and others are not".
Indeed! Willpower is a by -product of how much one can change oneself .
Your willpower is like a muscle. When you use it , it gets stronger. It is a habit when inculcated can lead to several success stories and vice versa. Every success story is an expression of strong willpower.
Henry Ford, who is known for his one of the successful car brands in the world , could achieve so given his firm grit and willpower.
Now let us see how strong willpower is a boon for a person.
It enables strong perseverance:- It enables one to continue the needful course of action decided upon at the beginning of the mission. Most importantly during difficult times. Persevering the goal is crucial to attain it.
It increases the focus:- With Strong willpower comes the focused attitude. One sticks to the plan even in case of odd circumstances. It is wise to starve your distractions and to feed your focus. With great focus comes a accomplishment.
It wards off the hesitations and the doubts if any:- When the willpower is augmented one tends to visualize the goal and hence there is no space left for the hesitations and doubts.
It enables to take calculated risks:- When one is backed with strong willpower, one takes calculated risk.
" If you risk nothing, then you risk everything". -Geena Davis
It is the most essential ingredient to the most successful life:- With a strong and
positive willpower one can move mountains. But without the same one is helpless.
So, give the bird of wishes , the wings of magnificent willpower . You will definitely visualize the success soaring high.
Thank of Reading.