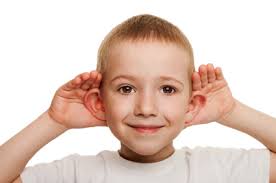 Today I will speak to you about importance of listening skills. Title of my speech is: "Listen twice as much as you speak". That itself speaks a lot about how important listening is.
What are listening skills? How you go about developing these? And what for? What is the difference between hearing and listening?
All these questions are simply answered with the definition of communication. We communicate to exchange ideas and views. We communicate to influence people, to negotiate deals. So, it's necessary not just to hear but to listen, understand and assimilate information contained in the speech. Then only we can respond. But if we don't listen but just hear, and if we are only anxious to say what we want to say, the objectives of communication is lost.
Listening becomes very easy with some modification of our habits. These are:
We must focus on the speaker. All other thoughts should not be allowed to tax the mind or to divert it. Normally as many as 50,000 thoughts come to mind each day. But with efforts, we can reduce their number. When we focus on the speaker we can surely assimilate the information the speaker is trying to convey.
While listening in one on one conversation, we must not interrupt. Even when we don't agree with what the speaker's opinion is. We must be patient enabling them to complete their statements.
Your objective of communication will be served better if you make the speaker comfortable. How do you do that? By nodding your head, other body language, gestures, or just say yes, please go ahead etc. The speaker must be sure that you are listening. Your listening makes the speaker comfortable.
Look at the views of the speaker from their perspective. Try to examine to issue while wearing speaker's shoes.
You must practice patience. You must never try to complete speaker's sentences even if you are confirming or appreciating their thoughts.
All speakers may not be very articulate. They may have some speech blemishes. Faults like using filler words, inaccurate pronunciation, breathing at wrong place in a sentence etc. You must ignore these and focus on the idea the speaker is presenting.
Survey reveals that 60% of the communication happens with the body language. So closely watch the body language of the speaker to understand speaker's intent.
Last but not the least, identify the idea by putting together the pieces of information the speaker has vocalized. All speakers are not expurts in speaking skills. So help them. It also serves you.
Thank you.