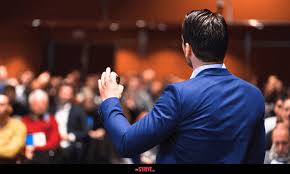 You must have a passion and identify it clearly!
1. Develop your passion by doing all what it takes. Strong Passion alone will make a strong Foundation.
Motivational speakers can deliver presentations and speeches on any topic. However, what counts is your passion for the subject you are addressing. Become a motivational speaker by identifying your message and your audience, brushing up on your public speaking skills and promoting your speaking abilities.
Motivational speakers don't have to complete a specific degree or training program to prepare for their careers, but they must have a unique perspective to share and a talent for communicating and engaging with an audience. Successful speakers recommend starting out by developing your unique idea or passion. Determine what expertise, experiences, and perspectives you can share, and what type of audience can benefit the most from it. While you may have expertise and experience to share on a specific topic, you may still need to do some independent research or talk with other experts to build a stronger base of knowledge in your field.
2. Content is the King. Never undermine its importance! The internet gives you opportunities to test your content before you get on stage. Most people, however, worry that no one will hire them if they give away their best stuff for free.
But if you inspire thousands–or perhaps even millions–of people online, you'll attract attention and people will want to hear more from you.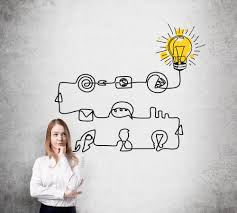 3. Innovation is the key for developing new ideas!
You won't become a successful public speaker by rehashing old ideas in the same way as everyone else. You need to develop fresh, relevant content that people want to hear.
Invest a lot of time into thinking about your message and how you can deliver it in a way that will inspire, motivate, and captivate an audience.
Identify Your Ideal Audience
It can be tempting to think your message will resonate with everyone. But, the truth is, a message that's too generic won't leave a big impact on anyone.
So rather than decide you're going to speak about sales or that you're going to motivate all business leaders, narrow down your niche. Identify the types of groups who you really want to reach so you can create content that will resonate with them.
Understand the people you will target as audience members before you get too far into the development of your career. Different groups of people need to be communicated with in different ways.

4. A story which is relavant to your statement adds colour to the picture!
Humans relate to stories. We connect to stories. Funny stories. Sad stories. Inspirational stories. We love stories. So tell them. Lots of them. Stories will keep your audience engaged and are also easier for you to memorize.
Gain Speaking Skills Having good content is only part of the battle. The way you deliver your message is more important than the words you use.
Even if you think you're a rock star speaker already, there's a good chance you have some bad habits (from swaying back and forth while you talk to using filler words like "um" more than you know).
Join a public speaking group, take a college communications class, or hire a speaking coach to help you develop better communication habits. A few little tweaks to your delivery can make or break your career as a speaker.
Also, record yourself giving a speech and watch it back. It can be painful to watch yourself but it's important to learn more about your hand gestures, body language, and speaking habits so you can improve.
5. Humour is the spice of life, but it also plays the role of salt while Speaking in Public!
You don't have to be a comedian to become a motivational speaker, but humor makes a massive difference. Humor works to endear you to an audience, but it's also a big differentiating factor in the speaking market. Many of the top speakers in the industry use humor in their talks.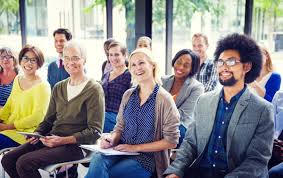 6. Let the audience also participate; Allow the audience a chance to laugh!
When you tell a joke or deliver a punch line, give the audience time to laugh. Sometimes speakers like to rush to the next point, but don't do that. You need to give the audience a chance to respond to what you just said (in this case to laugh), but also if you rush on to the next though while the room is still laughing, nobody will hear what you're saying.
7. Create the demand for your niche, if it is not in demand!
Once you feel like you have a talk ready to go, start marketing yourself. Build a website that shows you're a speaker. Add "speaker" to your social media profiles.
Tell everyone you know that you're looking for speaking engagements. Word of mouth is often a key factor in getting speaking engagements.
Keep releasing content too. Blog about your ideas, guest post on popular sites, make videos, or write a book. Release your ideas into the world so you can gain credibility as an expert.
Event planners will want to see you in action as they make decisions about who to hire to speak, so at some point, you'll want to create a demo reel that showcases you as a speaker. It may contain footage of you from several speeches, clips of you in the media, or audience reviews of your performance.
8. Knock many doors and finally you will be welcomed!
Early on in your speaking career, you may need to apply for speaking gigs. Be on the lookout for conferences, conventions, and gigs.
Find other speakers with a similar message and see where they're speaking. You might reach out to event organizers and ask them to keep you in mind for future events.
The more your speaking career grows, the less you'll need to apply for speaking opportunities. Eventually, people will seek you out.
And if you're doing well, speaker bureaus will want to represent you and they'll proactively market you as a speaker for events. They'll take a percentage of your fee, but they can help you obtain higher paying gigs.
9. The word FREE has a great pull. Offer to speak for Free!
Once you have your content ready to go and you're comfortable speaking to an audience, offer to speak for free. Reach out to local organizations who may benefit from your content.
There are many conferences around the country who don't pay speakers (some of them offer free admission to speakers). Apply to speak for them to help you gain practice speaking to a live audience.
Some people do a handful of free speaking engagements before they feel equipped to look for paid gigs while others speak at a few dozen events before they feel comfortable charging. But be prepared to speak for free until you're in-demand.
Thanks for reading.